Movie screen rentals: 9ft to 30ft!
Book today: 1-855-305-3549 (FLIX)
We now offer BIG movie screen rentals Florida: South Florida , West Palm Beach and Port ST. Lucie , Orlando and Kissimmee, Tampa , Jacksonville. We also service: Charlotte, North Carolina , Atlanta, Georgia and San Antonio, Texas. We also service the following counties in Central Florida: Orange, Osceloa, Seminole, Brevard, Volusia, Hillsborough, Polk, Marion, Alachua and Indian River.
Welcome to Partyflix BIG movie screen rentals and sales! Thank you for your interest in our business. Partyflix®, big movie screen rentals, is here to give your guests, great family fun at your home, church, school or business.. During your next event, treat your family and guests to a movie or sports event.. Partyflix® will set up one of our big movie screens at the location of choice and project the movie of your choosing (DVD or BluRay). We also can run of other devices such as: IPad, tablets, PC and Macbook. Each of our movie screen rentals: include: the inflatable screen of your choosing, a commercial grade projector and a premium sound system that will keep your guests happy from beginning to end.
At Partyflix®, we pride ourselves our timely service and great customer service. We are licensed and fully insured. Please check our testimonials page to see a list of our happy customers. If you'd like to know more about our movie screen rentals, services and products, please contact us today and we'll be happy to answer any of your questions.
Instant Quote

Why choose us?
• No deposits. You pay prior to setup. If your event is impacted by rain or inclement weather, you can reschedule without any penalty.

• Our prices include: delivery, setup, and tear-down. An attendant is included in most setups.

• We started this family business in 2010, since we've handled over 1100+ gigs.

• We are accessible, unlike other companies who leave you in limbo when you have questions. Call 1-855-305-3549 (FLIX) and you'll be talking to someone who will be handling your event or involved in the direct planning of it.

• We are honest. We measure our screens on the diagonal of the white space/viewing surface not the total diagonal of the frame like our competition. Example: Our Main Event Screen has an 18ft viewing surface, but its frame size is 23ft diagonal.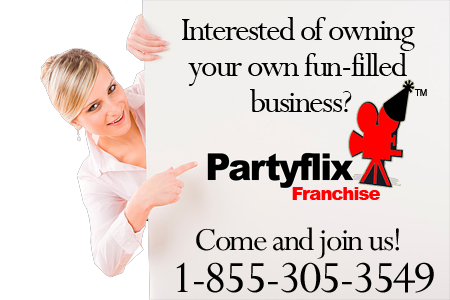 Recent Testimonials
We had a great experience with PartyFlix. What really made Partyflix stand out from other vendors we considered was 1) the flat rate pricing. There was no nickel and diming. Everything was included in a very competitive price. 2) the high level of communication. The early emails we received gave us every detail we needed to get the ball rolling. We received more communication a few days prior to the event (even letting me know you were keeping an eye on the weather, which had slipped my mind). And on the day of the event, Quentin was so helpful in reaching out to get things set up. He was very clear in his instructions and reassured me that if we needed anything at all we could reach him on his cell. He arrived at the perfect time to break down the equipment.
In short, everything went so well, we will actually start doing MORE events like this in the future. And we will definitely be using Partyflix. I would recommend your company to anyone who asks.
Michelle L., Community Movie Night, Alpharetta, Georgia, 9/3/17
We had a great experience with Partyflix! Quinn in North GA is awesome! He showed up early, he had great attention to detail while setting up and was super friendly! The picture quality was great and the sound was perfect. I will definitely refer Partyflix to my friends!
Jennifer D., Community Movie Night, Roswell, Georgia, 9/2/17
Thank you so much for your services.My son was super excited about his laser tag party, we woke with a lil cloudy sky ,but by 11 the sun was out!Our Attendant was awesome, as the kids arrived he got them suited and ready for play,the kids had a blast and I will be using you guys again within a few months. Thank you so much for your outstanding services.Very Happy Birthday Boy and Costumer! THANKS….
Lakeria G., Birthday Laser Tag, West Palm Beach, FL, 9/2/17
Rory was absolutely amazing and very professional! I will be requesting her for my next rental with your company. Thank you and have a great week!
Jaime B., Dive In Movie, Delray Beach, Florida, 8/12/17
Specials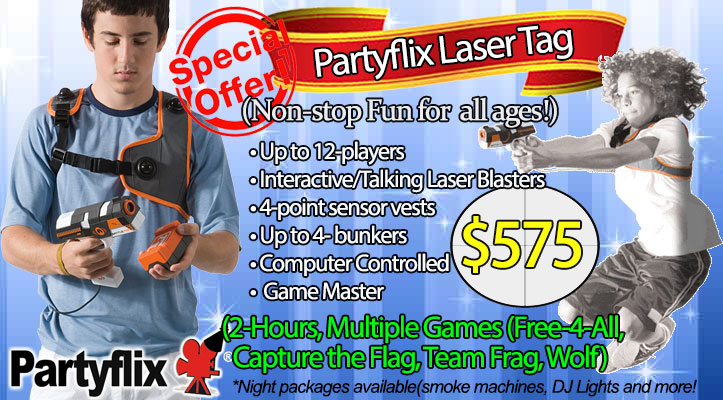 • Up to 12-players
• Interactive/Talking Laser Blasters
• 4-point sensor vests
• Up to 4-bunkers
• Computer Controlled
• Game Master/Attendant
(2-hours of non stop fun! Multiple games to choose from including: Free-4-All, Capture the Flag, Tag and Shoot, Team Frag, Wolf and more!)

Learn more about our Laser Tag Rentals and Packages! (South Florida and West Palm Beach Only)
Copyright © 2011 Sony Pictures The Smurfs
• 12ft movie screen, projector and sound
• Movie (that you provide up to 2.5-hours)
• Popcorn Machine (4) 8oz Packs, Serves 20-40
• Upgrade to a 14ft movie screen for $60 and an 18ft for $100.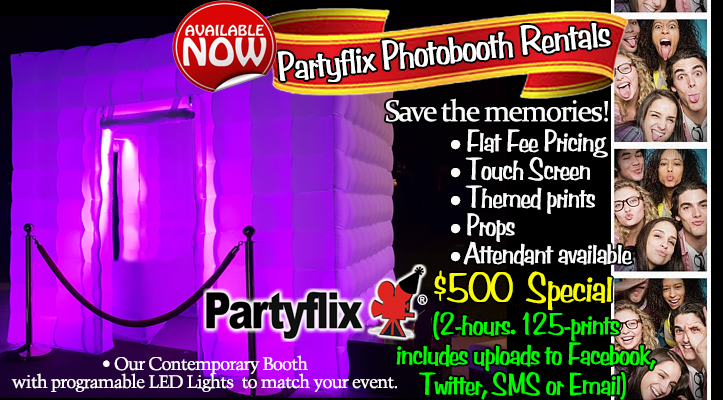 • Touch Screen Systems
• Internal and External Monitors
• Custom Border & Text of your event
• Professional Full Time Attendant
• Includes setup, delivery and teardown
Our low cost, high quality photo booth rental packages include touch screens, dye sub (smear and smudge free) prints and uploads to your favorite social media sites: Facebook and Twitter. You can also send your photos to SMS and email! Check out our Photo Booth Rental Packages.