Laser tag rental in Jacksonville
We now offer Laser tag rental in Jacksonville for your next event or party. A laser tag party with Partyflix is a great way to give your next event a blast of excitement. Perfect for: birthdays, school events, corporate team building, summer camps, church groups, bachelor/bachelorette parties and holiday parties. Laser tag is a safe way of have fun. There is no mess/pain like paintball and the infrared beams emitted from our blasters are harmless. Even younger children can enjoy the thrill of playing.
If you choose a Partyflix laser tag rental in Jacksonville, you'll enjoy great features like those found in large, commercial laser tag arenas. Our laser tag rentals communicate with a central computer. Player's hits and misses are recorded and in real time. After each game, a leaderboard is generated. Oh and did we mention, our laser tag blasters, talk to you. They tell you if you hit your target or if you got hit. They will tell you if you are out of range and provide words of encouragement. Our laser tag blasters have an effective range of 400ft!
Your laser tag rental in Jacksonville also includes a game master, who will officiate your matches and ensure your party goes off without a hitch.The game master will handle any technical issues should they arise and explain the rules of our many laser tag games (Free-4-All, Capture the Flag, Tag-and- Shoot, Team Frag, Wolf and more!)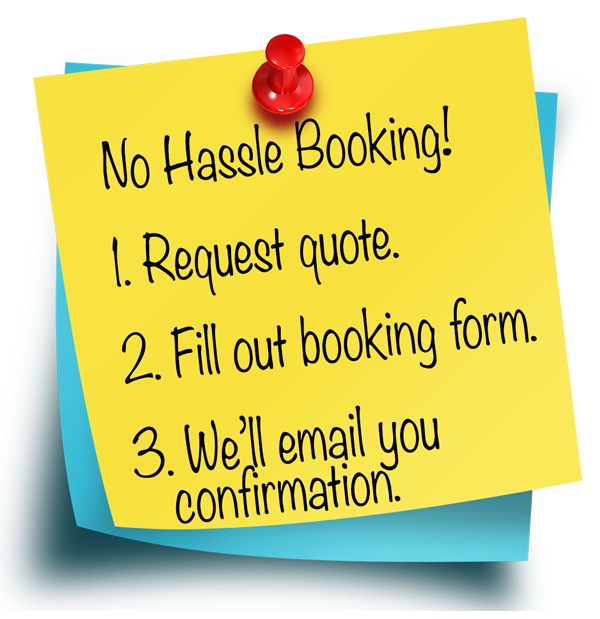 Slots are limited and they fill up fast!


(Faster than calling…we will send you an SMS message after we processed your quote.SMS charges may apply.)

We also cover these areas too: Jacksonville Beach, Atlantic Beach, Neptune Beach, Baldwin, St. Augustine, St. Augustine Beach, Hastings, Marineland, Ponte Vedra Beach, Butler Beach, Bakersville, Crescent Beach, Elkton, Flagler Estates, Fruit Cove, Julington Creek Plantation, Mill Creek, Nocatee, Palm Valley, Sawgrass, St. Johns, St. Augustine Shores, St. Augustine South, Spuds, Summer Haven, Switzerland, Vilano Beach, Fernandina Beach, Callahan, Hilliard, Amelia City, American Beach, Andrews, Becker, Boulogne, Bryceville, Chester, Crandall, Crawford, Dahoma, Dyal, Evergreen, Franklintown, Glenwood, Gross, Hedges, Hero, Ingle, Italia, Keene, Kent, Kings Ferry, Lessie, Mattox, Nassau Village-Ratliff, Nassauville, O'Neil, Verdie, Yulee Heights, Yulee, Archer , Gainesville, Hawthorne, High Springs, La Crosse, Micanopy, Newberry, Waldo, Capville, Cross Creek, Evinston, partly Marion County, Fairbanks, Grove Park, Hague, Haile, Haile Plantation, Island Grove, Jonesville, Melrose, , Rochelle, Santa Fe, Wichita Glade, Windsor, Macclenny, Glen St. Mary, Baxter, Eddy, Olustee, Sanderson, Taylor, Hampton, Lawtey, Starke, Brooker, Green Cove Springs, Keystone Heights, Orange Park, Penney Farms, Lake Asbury, Bellair-Meadowbrook Terrace, Belmore, Clay Hill, Doctors Inlet, Fleming Island, Hibernia, Lake Geneva, Lakeside, McRae, Middleburg, Oakleaf, Virginia Village, Lake Butler, Raiford, and Worthington Springs.
Please contact if your event is outside Duval, Nassau, Baker, Clay, Union, St. Johns, Alachau, Bradford.
If you are interested in booking a laser tag event with us. We require liability waivers signed for all participants (including minors). Get into the action faster the day of your event by downloading and signing our liability waiver.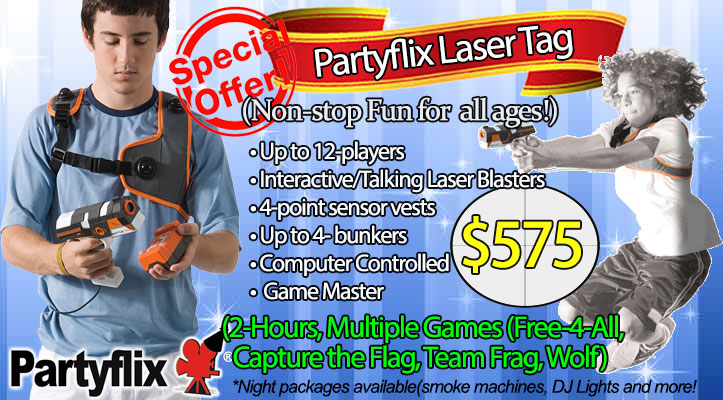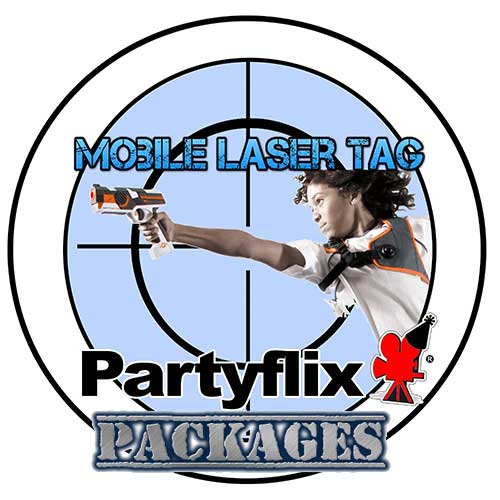 Partyflix BRONZE Laser Tag Package
• Up to 12-players
• Interactive/Talking Laser Blasters
• 4-point sensor vests
• Up to 4-inflatable bunkers
• Computer Controlled, tracks hit/miss percentages and player statistics
• Game Master/Attendant
Starting at $400
---
(2-hours of non stop fun! Multiple games to choose from including: Free-4-All, Capture the Flag, Tag and Shoot, Team Frag, Wolf and more!)
*ADD AN ADDITIONAL HOUR FOR $75
*ADD A GENERATOR FOR $125
Slots are limited and they fill up fast!
Call us 1-855-305-3549
See our laser tag in action (Outdoor, Daytime)
See our laser tag in Action! (Indoor, Club Event)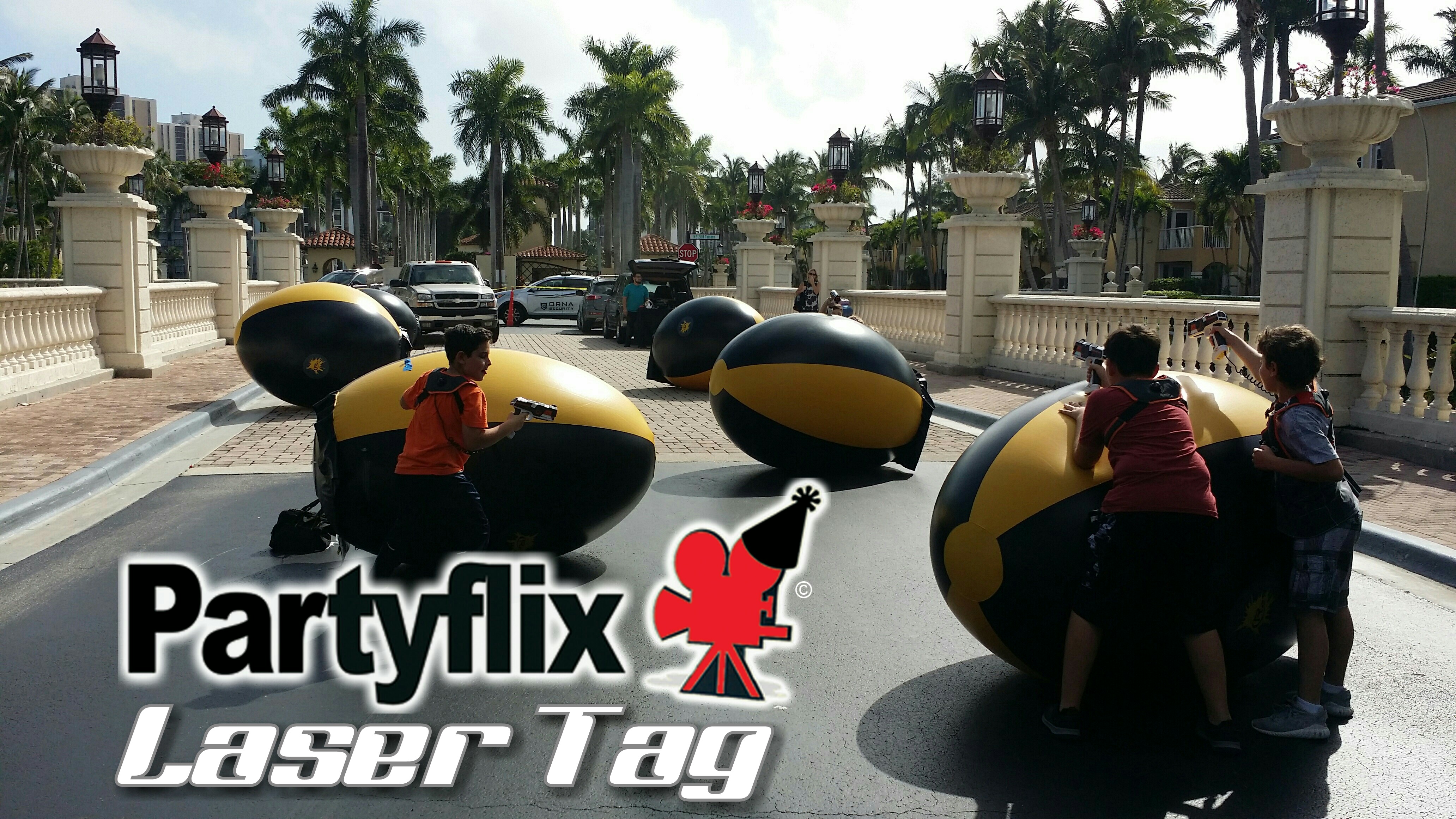 Featured Clients